You may have installed a water softener for the water reaching your house. But now that you're growing plants, you wonder if the water is suitable for them.
Softened water is bad for plants if you use it for a long period of time. The softened water will deposit salt on the soil as well as into the plant. Too much salt will be toxic to the plant. It will also cause the plant to take in less water and suffer from dehydration.
While softened water can have its benefits for your house, it's not a good idea to use it on your plants. I'll help you find some solutions on what you can do to provide your plants with the right water.
Why softened water is bad for plants?
Rainwater is the purest form of water and is also naturally softened. This means it has the right amount of minerals present in it.
When the rainwater mixes with the soil, minerals like calcium, magnesium, and lime get added to the water making it hard water.
Here is a map of the US showing the hard water levels in the different regions. You may need to use a soft water filter in your house if you get hard water in your house.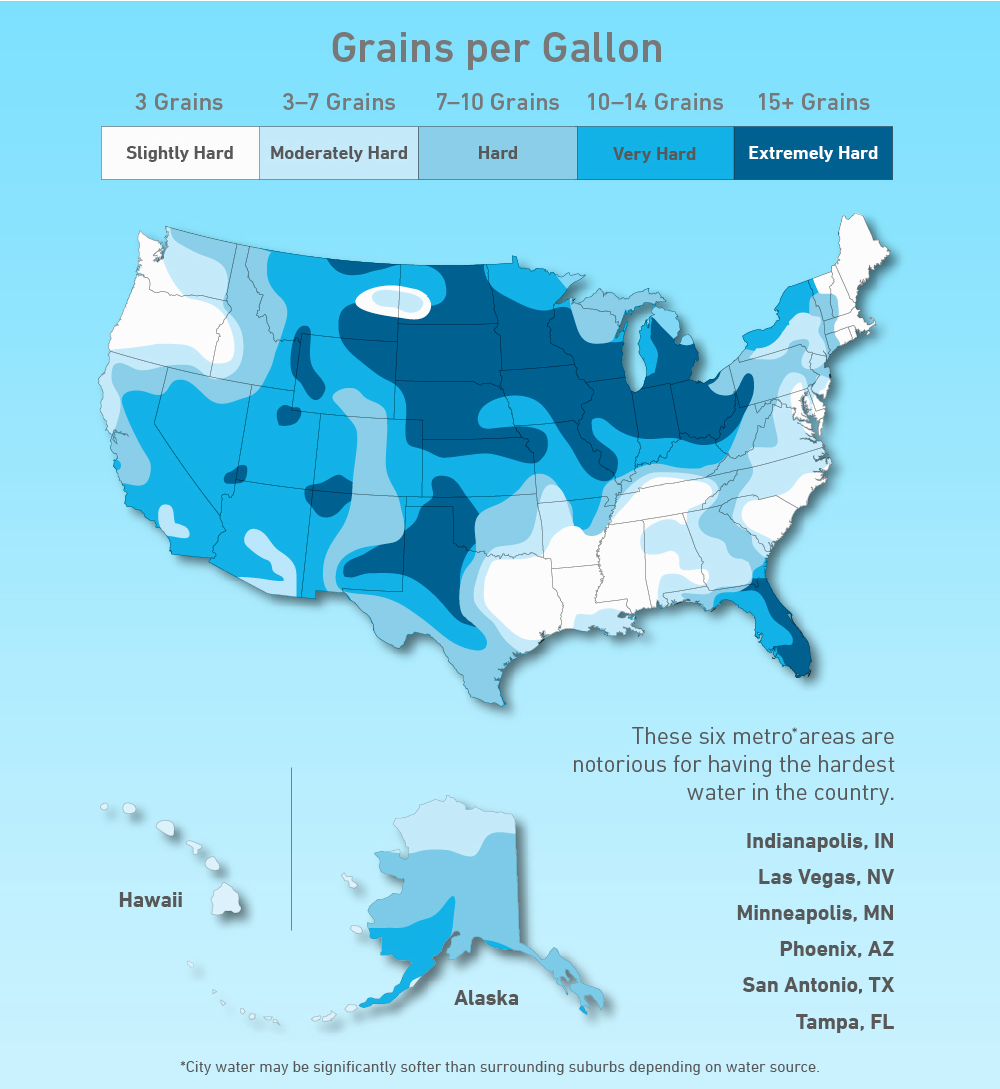 Softened water means the minerals like calcium and magnesium have been removed from hard water. This is done by replacing it with a salt such as sodium chloride.
The softened water is good for your household appliances because it prevents mineral buildup. It avoids degradation of water pipes and it reduces the amount of soap and shampoo you need to use.
But when it comes to your plants, this softened water causes trouble because of the salt. The amount of salt could be low depending on where you live but it will build up over time and damage your plants.
According to SalinityManagement.org, "Most plants will typically suffer injury if sodium exceeds 70 milligrams per liter in water, or 5 percent in plant tissue, or 230 milligrams per liter in soil, in the extract from a saturated soil paste."
Too much sodium chloride is toxic to the plant and causes it to die. The salt will cause the plant to feel like it needs less water than it actually does. This causes dehydration in the plant and will lead to poor growth.
How to avoid using softened water on your plants?
You don't actually have to use the softened water that comes to your house to water the plants. You can just use the hard water before it is softened.
The easiest way to do this is to use a spigot from the main water supply that is reaching your house. You can water the hard water itself from this spigot.
Another option is to use a bypass valve from the main water supply line to divide the hard and soft water reaching your house and the garden.
You can also consider having a separate water supply line to your garden if that is feasible.
It is also much better to mix the softened water with rainwater, distilled water, or tap water before using it on your plants.
This will still eventually lead to salt build-up but it will take a lot longer because of the dilution that will take place.
The water softener works by replacing the minerals in the hard water with salt. It is the sodium chloride that can be harmful to your plants.
If you use a water softener that uses potassium chloride instead of sodium chloride, it's much safer for the plants. The potassium will be beneficial to the plants in small amounts.
You do want to avoid too much of the potassium chloride build up in the plant and soil because it can cause chlorosis. This will cause the yellowing of the leaves and falling off.
How to treat damage caused by softened water?
If the plants have been affected by softened water, they will be dehydrated. This means the leaves will be wilted and drooping.
Make sure you understand the difference between underwatering and overwatering. You don't want to keep watering the plant causing the roots to drown.
You will find the salt has deposited on the soil near the plant after the water has evaporated.
The first thing you need to do is stop using the softened water on the plant and soil. This will help bring back the health of the plant and soil after a few weeks.
If you don't see any improvement in the condition of the plant, you'll need to take further action. You will need to flush the salt out of the soil.
You can do this easily by using the hard water to flush the salts out of the soil. You need to water the soil well till it reaches deep into the ground.
This deep watering will help remove the salts from the soil and bring back health to the plant. You may need to do this several times every week depending on how much salt has been collected in the soil.
If you're growing plants in a container, make sure the pot has sufficient drainage holes at the bottom. This will help drain out the excess water and salt deposits along with it.
The drawback of flushing the salts out of the soil is it will also leach out the nutrients and minerals. You may need to add a fresh batch of compost and amendments to the soil to improve its health.
What alternatives can you use instead of softened water?
If you are getting softened water to your house, I would recommend using any of the below alternatives for your plants.
Rainwater
This is the best water you can give to your plants. It's the purest form of water that has the right pH and minerals for your plants.
The problem with rainwater is you need to store it when it rains. You need to use a container such as a rain barrel to do this.
You also need to make sure the stored water remains clean and suitable for use in your plants.
Tap water
This is the easiest source of water you'll find in your house as an alternative to using softened water.
The problem with tap water is it may be treated with chemicals such as chlorine and fluoride. These chemicals can harm your plants so you can't use the tap water directly.
You'll need to let the tap water stand in a container for at least 24 hours before using it on your plants. This will help dissipate the chemicals from the water.
Distilled water
Distilled water is also a pure form of water that does not contain any minerals, nutrients, or impurities.
The problem with distilled water is it can be expensive. You'll need to add the minerals and nutrients to the soil as the water won't provide this.
This might be a good solution if you have a few plants or are growing a container garden. It may not be feasible if you have a large garden with many plants and trees.
You can get yourself a water distillation system that will get you distilled water for a lot less cost.
Reverse osmosis water
Reverse osmosis is a process where you pass the water through a semipermeable membrane under pressure.
This helps remove unwanted chemical and biological materials from the water. So you can get rid of salts, minerals, chlorine, fluoride, and bacteria from the water.
You'll need to buy a reverse osmosis system and how much you spend will depend on how many plants you want to water. This might be a good solution for a few plants in your garden but not if you have a lot of them growing.
You'll also need to add the required minerals and nutrients to the soil because the reverse osmosis water will not contain much of them.
Here are some of my favorite container gardening tools
Thank you for reading this post. I hope it helps you with your gardening needs. I've listed some tools below that can help you with container gardening. These are affiliate links so I'll earn a commission if you use them.
Gardening Gloves – I find the Pine Tree Tools Bamboo Gardening Gloves really good for both men and women. It's made from bamboo so helps absorb perspiration. They are also comfortable and fit very well.
Containers – You know picking the right container is crucial for your container gardening. I've written a detailed post on the best containers you can choose from. If you're happy with a plastic container, you can check out the Bloem Saturn Planter.
Watering Can – This is a must-have tool when you're growing plants in pots or grow bags. It helps to water the potting soil without splashing on the foliage. The Kensington Watering Can is stylish, strong, and can provide precision when watering potted plants.
Trowel – Garden Guru Trowel is my favorite because it's durable and comfortable to use. My gardening friends really love having a trowel because they use it for digging soil, mixing fertilizer, moving seeds, leveling out the soil, mixing compost or mulch, and also dividing tubers
Bypass Pruner – I really like the Corona Bypass Pruner because it's durable and gives a clean cut that helps plants recover faster. If you're looking for something cheap, get the Fiskars Bypass Pruner that is really good as well.
To see an extensive list of the best container gardening tools gardeners recommend, check out this resource that I made for you.
Kevin Rodrigues
Kevin is the founder of Gardening Mentor, a website that aims to teach people to grow their own food in a limited space. As a self-taught gardener, Kevin has spent several years growing plants and creating gardening content on the website. He is certified in Home Horticulture and Organic Gardening by expert gardeners from Oregon State University.
Read bio